I don't know how, but the folks over at ill.motion sure know how to pick their dates. I have yet to attend a Sunday School where it wasn't scorching hot.

In fact the day peaked at just over 30 degrees Celsius. Given that this is an outdoor show however, I really don't mind. Keep doing whatever it is you guys are doing to have amazing weather!

I'll start things off with my own car, which by no means is a show car. That being said, I'm finally glad to say that it's back on the road and doubling for track duty as well. Special thanks to Jamie for helping me get her all polished up!

Speaking of Jamie, he brought not one…

…but two of his cars out to Sunday School.

Sometimes I forget he has the DC5.

Woooster's 964 is always one of my favourites (sorry I don't know your actual name!).

While we're on the topic of bringing out multiple cars, Alex brought out the new NSX…

…his two (yes, TWO) ITR's including the Phoenix Yellow one which just underwent a full restoration…
EDIT: the white ITR actually belongs to Chris!

…his 506HP Integra GS-R (which is currently for sale!)…

…and lastly (I think), his K-powered EM1 track car, parked next to Brad's supercharged K swapped EM1. Holy that's a lot of cars for a single person at a car show!

Kyle brought out his new FK8 CTR along to add to the already giant line of Hondas.

Jackie's track ITR. We should be seeing this back at Castrol soon!

Tommy's Civic with a full EK3 exterior conversion.

Brandon's DC5 not making me deaf for once.

Rare sighting of Punit's Integra.

Errol's ITR with the front covered in bugs, although the brightness hides it rather well in this photo…

Eric's 1JZ swapped S15.

Isaac's turbocharged Amuse S2000. Hopefully we'll see this back at the track soon too.

Aldo's S2000.

In case you haven't noticed, pretty much every Honda in Calgary is on TE37's…

Even the ballers are on TE's!

Except for Alex. Alex is on 57DR's.

Dustin's S15 over with the VEX Performance boys.

Rare shot of Orrin's FR-S pulling car show duty instead of being a race car.

Super clean LS swapped S13.

GS300 on Work Equip 05's and Endless brakes.

Not the most popular platform but I really enjoyed this RX-8.

Super badass Tacoma from the team over at The Gear Shop.

Neat tribute to Paul Walker's R34 from 2 Fast 2 Furious.

Calvin's 450HP 135i.

Rather wild but well done Miata. Hopefully the owner brings it up to Castrol sometime!

Rocket Bunny S15.

Corey's S2000 on CE28N's.

JC and Punit's VIP machines.

Jason's Arise Sports kitted FR-S. Probably still my favourite kit for this chassis to this day.

Ryan's EP3.

Awesome K-swapped Mini.

Somehow I didn't take a picture of the exterior of this Supra but DAMN that engine bay…

Crazy 2JZ powered FC with carbon doors.

Kasem's new GT3. Love the green accents on this car.

Ryan's F355 slammed on Work Meister S1R's.

M&M flared turbo B-series Civic.

Ryan's MR2. Love the Border fenders on this car.

Incredibly rare NISMO 400R.

NSX with some super cool LED taillights.

Probably the cleanest FD around. Very rare to see URAS aero around these parts as well.

Pretty uncommon to see a Porsche 944 done up to this extent but I still really enjoyed it. The Advan TCII's look just perfect on this car.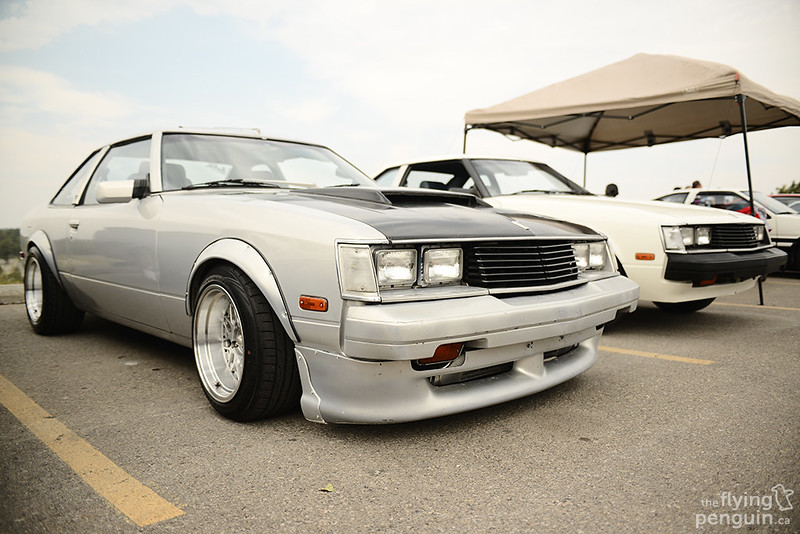 Don't remember what this is but too cool to not post!

Boosted Civic on SSR MS3R's.

Immaculate trio of AE86's.

Right next to the AE86's was an equally clean AW11 MR2 and…something. Sorry I'm not too familiar with the classic cars!

Varis widebody STI.

Liberty Walk G37.

Gangster looking LS430.

Pretty cool to see an Integra on Super Advans, which isn't a very common combo.

Very clean and simple but effective S4. Well done sir.

Spotless 280Z.

Gabriel's C-West front Integra.

Bill from officialTHREETWENTY always brings the Ford hot hatches out!

Arif's Bento Box. Side note, there was a super clean EF Civic next to Arif's car but I totally missed it…

Varis kitted Evo X.

Daniel's recently completed KM4SH FR-S. This kit is actually badged #11 in the world!

It seems like Berry is at every single show ever…

Levi is that you…?

Carlo's Varis WRX on CE28SL's.

Varis R35. Damn this thing looks mean.

Josh's spotless EG.

I'm going to finish this post off with one more shot of Jamie's EK9. See you all at Driven this weekend!
-brandon.
Click HERE to view the full photo set on Flickr.