The automotive scene in Alberta has been growing vastly over the last few years. I'll be brutally honest when I say that we usually see the same cars each year over and over again at our various shows and meets, but this year seemed different.

I think the introduction of the provinces first Rocket Bunny car may have gave things a jump start, as we see all kinds of crazy builds now. We even got our first RWB car in the province recently. Needless to say, things are growing quickly, as was evident from this years Driven show in Calgary.

Things have even changed up a bit in my group as well. Unfortunately a few of the guys were unable to attend this year, but we still had our Euro void filled with Jamie's new M3 on TE37's.

Jamie's RSX also made a rare appearance this year!

Ave finally got his car running for this years show and even took home Honorable Mention for Best Honda/Acura. Congrats!

FR-S' are a dime a dozen these days but Nolan's is looking extra sharp with the entire exterior being wrapped in Xpel Stealth. Subtle, but goodness does the end product look good.

Matthew's AE86 now rides a couple inches lower on Riken wheels this season.

Calgary locals will without a doubt recognize this car as Gangster D's old ride, but it now belongs to my friend Kevin. For the most part it looks the same as it used too, however there have been a few small additions here and there such as the Recaro RS-G and new front splitter.

My Integra also has had a few new additions since last year. While mostly mechanical (in preparation of track days), the most obvious changes since last years show is the new Momo steering wheel, Works Bell quick release, TiBurnt hardware, and of course, the in-your-face Osaka Style tire bomb.

Right next to us were the Lowcals group with, well, some very low sitting cars.

I love ER34's and hope to see more in the scene in the future!

Really like the way the canards look with the winglets on this Supra.

Although I missed the first track day of the year, I'm hoping to be able to catch Joseph's FR-S out on the track later this year!

Sadly I didn't get an engine bay shot (silly me), but this Evo X was rocking a 2JZ swap up front. Crazy.

This interesting looking creation is the Dragon 962, a Porsche 962 Group C replica in the making. Should be pretty wild once it's complete!

Kasem's S2000 looking prettier than ever with new black accents as well as TE37's. He would later on go to take home the Best S2000 award. Congrats Kasem!

Right next to Kasem's S2000 was this super immaculate FD. By far my favourite rotary powered car at the event.

I've been following the build of this EK Civic for a while now ever since the owner used to own a friends old RSX. Sadly that RSX was written off shortly after he started working on it, but glad to see that he hasn't given up and has come back even stronger!

Probably the craziest MR2 I've ever seen, now on custom grey TE37's and new fenders.

Italian Prince with some JDM styling cues. Love it.

Crazy looking 944. Definitely not the type of Porsche you see modified very often, especially not to this extent.

While we're on the topic of Porsches, the legendary Carrera GT also made an appearance.

Great looking matte blue Impreza over in the Team Royalty booth.

Always a pleasure to see the Funky Garage JZX100 Chaser.

Derek's turbo FR-S.

Big wings and things.

One of the featured vehicles of the show was this pristine Hakosuka Skyline GT-R. Definitely not something you'd expect to see on Alberta streets!

Jamie/Ryan's old EK Civic was also in attendance, now sporting turbo power.

I've always enjoyed seeing externally mounted oil coolers on OG cars like this Datsun 510.

This particular one was powered by an SR20 with a rather large looking turbo.

Sadly I don't know anything about trucks but I was thoroughly enjoying this slammed one.

Glad to see that the Camo Audi has gone away with the black/gold theme and back to the winter camo look.

As much as I love the traditional Porsche headlights, I must say that the "slantnose" frontend also looks mighty fine.

Loving the DTM styling on this E36 M3.

Yet another friend taking home an award, Gerick's Rocket Bunny RC 350 F Sport went on to win Best Lexus. Congrats!

Having a mini crisis right now…

Ugh dat booty…

A few guys made the trip from Manitoba to make it to the show. Glad to finally be able to see the TiBurnt 350Z in person as the attention to detail on this car is insane.

SUPER wide S2000 thanks to the M&M Honda Hyper Wide body kit.

On the other hand there was this much simpler (but still very clean) S2000 with mag blue TE37's and ASM front bumper.

Always a pleasure to see Benji's award winning TSX. Besides taking home Best Honda/Acura at Driven, he also recently won the PASMAG SEMA Tuner Battlegrounds!

Birdy's car in the Lost Royalty booth…

…with a crazy looking Ichigo Hollow Mask on his hood. Love it!

Alberta's first RWB car!

Check out that steering angle on the front.

This Rocket Bunny RPS13 was definitely one of my favourites from the show.

BIGNJPN's wild R32 which took home the Best R32 award.

Kevin Nguyen's R32 GT-R which was competing in the PASMAG Tuner Battlrgrounds competition. If there was a "Biggest Wing" award, this would probably take the cake.

Really enjoyed the way the color popped on this widebody S15…

…whereas I also equally enjoyed the much more subtle purple on this one.

Did I mention that it was super cramped this year with how many cars that were entered? It was pretty difficult to capture full vehicle shots of some cars such as Zee's R34 GT-R as seen here.

Super clean turbocharged Integra. I recall being parked next to this car last year and it's still looking mighty fresh.

Glad to see the owner of this Thunderbird from last years ill.motion show decided to bring the car out to Driven!


It still even has the A&W window tray. Too good.

A pair of bunnies in the back.

One of the many Calgary cars that came up to Edmonton last year for the final track day of the season. I hope to see you guys out there more this year!

I completely fell in love with the Arise Sports kit the first time I saw it on Ben's BRZ at A&J Racing. Looks like Jason has also caught the bug and decided to get one for himself. I think it looks amazing on his car with the red TE37's and swan neck Voltex out back!

VEX always has an impressive selection of cars every year and this time was no different. I mean how often do you see an Escort RS Cosworth?

Probably the best Z that I have ever seen.

Orrin's FR-S with all sorts of new goodies for this years time attack season. Can't wait to see this car in action!

Can never go wrong with mag blue TE's on a white car…

Last years Best Integra winner. Looks like the owner decided to leave the hood off this time…

…so that everyone could see the wire-tucked bay that's also been absolutely draped in titanium and Mugen bolts everywhere. Talk about baller.

CR-V on JDM ITR 16's. Too awesome.

Apparently this is the CR-V owners other ride. EDIT: this is actually a different owner although the CR-V owner does also own an Audi wagon!

Without a doubt my favourite Honda Beat around (mind you it's not like we have a lot of these things rolling around).

Can't have Yin…

…without Yang!

Brandon's RSX parked away in the back.

Dicken's full Varis widebody Evo X that was completed at A&J Racing last year.

Supra Dupra.

This was probably one of my favourite AE86's at the show…

…which also happened to have an F20 under the hood!

1JZ swapped S15.

Looks like Arif's been busy as he's now rocking paint matched J's Racing Hood and Track Life fender cutouts. Looking good!

The winner of the Tuner Battlrgrounds contest, Bryan Antonio's Rocket Bunny FR-S!

Peter's car looking much cleaner without the racecar livery this year.

Damn Daniel!

Carlo's WRX now equipped with a carbon fiber hood up front and yet another gigantic wing out back.

Without a doubt the craziest Civic at the show was this turbocharged EK by Speedtech Edmonton.

You might be wondering why this tiny little car has been equipped with a parachute out back…

…and that's because this thing is pushing over 1,000HP to the front wheels!

Just managed to get a full shot of Trung's S2000. Space was super tight in the Speedtech booth!

We meet again…
(For those of you that don't know, I've run into this exact car multiple times in Edmonton, Calgary, and even Vancouver once!)

Ross' R34 still clean from the Edmonton Motor Show. Congrats on taking home Best R34!

Another turbocharged Integra in the Garage Box booth next to us, this time rocking a C-West front bumper.

Kevin's IS also still clean from the Motor Show.

Yet another Rocket Bunny equipped car, Nick's Genesis which would later go on to win Best Hyundai.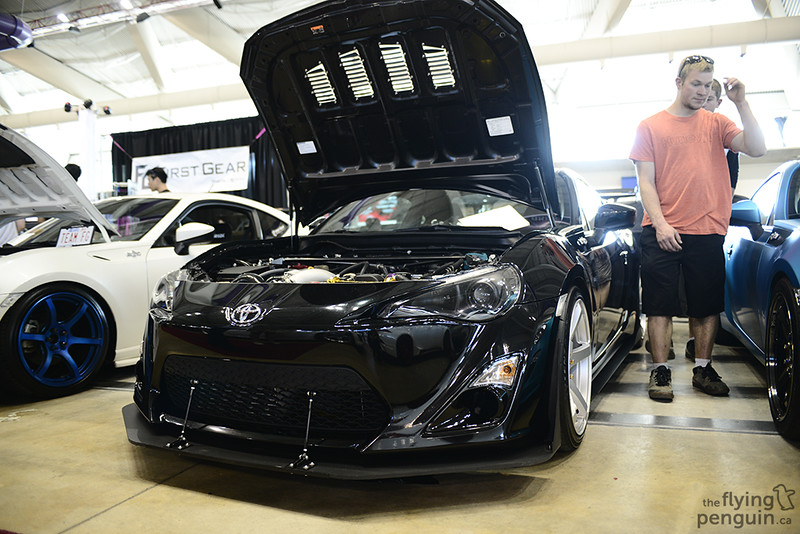 Danny's now HKS supercharged FR-S which we also saw recently.

Leo's FR-S now with a Voltex wing out back.

R35 with huge quad exhaust tips and wing over in the First Gear booth.

I think I've only ever seen this color on Evo IV's before, but it looks fantastic on this Evo VI T.M.E.

I remember first seeing this E46 M3 GTR as just a rolling shell essentially, but looks like it is now a fully functioning race car.

I'm a big sucker for Martini Racing liveries. That's really all I can say here as I know nothing about motorcycles.

Motorcycle prepped for ice racing (I didn't even know that that was a thing) with crazy looking studded tires!

Holy neochrome Batman. Checkout that burned titanium heatshield too.

Zahir Rana also reintroduced his Ferrari Enzo ZXX after it was rebuilt (some of you may know that this car actually crashed into a river during the Targa Newfoundland Rally back in 2011).

And just like that, Driven Calgary is over. This year was definitely bigger than last year and I'm glad to see the quality of the cars increase each year.

The rest of the photos that I'm going to post from this point on are from rollout, are in no particular order, and are of many of the cars that I've already posted above. Make sure to click the Flickr link below to see the rest of the photos!
See you all at Driven Edmonton later this year!
-brandon.
Click HERE to view the full photo set on Flickr.

Watch my Driven Calgary 2016 video HERE.